The Baby Gate
Since we have a little one who will be bipedal any day now yeesh, Jen's been after me to put up a baby gate at the top of the stairs. The instructions said it needs to be installed into a solid if not structural elements, which presented a problem. The staircase has sidewalls, but they have about three 2×4 studs each — you can wiggle them about an inch either way without even needing any effort — so I couldn't install the gate into the obvious opening. There are structural columns at the top of the stairs which are in place of the original outer wall of the gable cottage but which now form one of two arches from the addition on either side of the fireplace — one into the stairwell and the other into the living room. But they're too far apart for the gate.
So I built extensions, I guess you could call them, that anchor into the columns and make the opening narrow enough for the gate to fit. They're not particularly pretty (I learn a lesson about carpentry every time I pick up a power tool: in this case, don't try to drill a perfectly perpendicular hole without one of those mini-drill presses you attach to your drill), but at least instead of having bare ends of 4×4 posts sticking up I covered them with little fence post caps.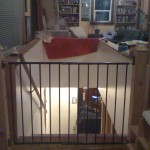 And, since they don't meet the stair sidewalls or the fireplace, the cats can get around them but even a bipedal baby can't: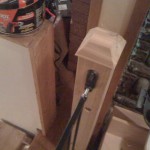 So it's nice to have one project completely done with and checked off the list.
The Bathroom
I got the floor down a couple of weeks ago, but it's just been sitting there mocking me ever since.
As you can see in the photos, it's an octagon-and-dot mosaic tile, and I really should have used a smaller-notch trowel. Pretty much every joint has thinset squidged up into it. That is to say, every one of the thousands and thousands of little tiny joints has thinset squidged up into it, some halfway, some to the top. Scraping them out with a utility knife is going to take forever.
I've been working slowly on finishing the drywall — it's not that it's particularly difficult, it's just the first time I've done it so I'm figuring out my technique as I go along. But the bathroom absolutely must without fail be all the way done by Thanksgiving, so I took the day off work today to get as much done as possible. I spent the morning doing second-coat on the drywall, and then Jen called and said she was taking a half day and would be home to help.
So we decided to attack the walls. I mixed up a bunch of thinset, set up the borrowed laser level along the reference lines I'd already marked, and then Jen went to town setting all the field tile while I worked on making all the odd cuts and fits. The result: we have walls!
There are two reasons we didn't completely finish: I can't do the ends of the shower walls because the end-bullnose tiles are on order, and I can't do the top row of tiles until I've skim-coated the drywall (since there will be a bit of overlap). The bottom row of black tiles is just going to be an evening of cutting and fitting, and we were both tired after working all day, so that'll have to be another post for another day.
And here's why my wife is awesome: not only did she do almost all of the work to get the tile up, she actually got it up a lot faster than I would have done. If she hadn't taken a half day off, I'd probably have gotten one wall done and maybe two, instead of all of them. And that doesn't even mention all the work on the rest of the house she's been doing while I've been putting all my energy into one room. The fact that this place looks like a home instead of a box and tool storage facility is all due to her.
Update:
So you'll remember the missing drain hole for the sink. I'm happy to say that it was pretty easy going in through the linen closet, since it was faced in particle board, not the 3/4″ tongue-and-groove of the bedroom closet, and my measurements were pretty darn close: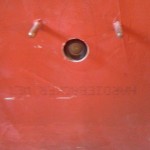 (Yes, I'm aware that it's not centered. The sink, shelf, and medicine cabinet aren't centered on the old pre-existing drain line, mostly because of having to mount both sconce lights into studs and find a center point between them.)
Now I have to figure out the best way to interface between the 1-1/2″ ABS and the 1-1/4″ standard sink drain and P-trap. I guess the trap escutcheon is going to have to cover a lot.
Oh, and here's a photo I forgot to put up months ago.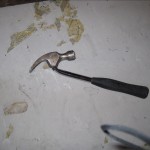 Moral: don't try to pull eighty-year-old framing nails out of eighty-year-old wood with a little bitty finishing hammer.