We agreed when we got the house that we would host the annual orphans and friends Thanksgiving, with the addendum 'if we have a working bathroom' ha ha ha. Well the ha ha ha became a little less 'ha ha' and a little more 'oh shit.. really?? seriously?? It's not done yet??' Well I 'broke in' our working upstairs wonderful beautiful brand new toilet this morning and hopefully tonight the sink will go in. One way or another Thanksgiving is happening, though there may be some unfinished bits.
This weekend my friend watched the baby while I cleaned the house in preparation for the descending hungry hordes. I am amazed out house actually looks really great, it looks like a responsible grown up person lives here.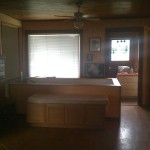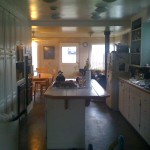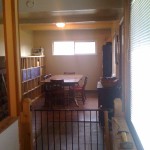 Of course if anyone went into the basement, they could potentially be crushed under the toppling of badly stacked boxes of crap.
Today I work from home because we are having the chimney cleaned and some repairs done to it and the fireplaces themselves. Time to get back to work since lunch is about over. Though I am being distracted by A Chorus Line. I've had the songs stuck in my head since watching the documentary about it, Every Little Step, which was absolutely fantastic. I had to pull out my old VHS tape, I blew off the dust and stuck it VCR. I'm surprised the darn thing still plays and I didn't wear it out in my teens. I get to relive my teenage crush on Terrence Mann and listen for my favorite line of 'Why is it only my ass that ever gets invited places?'