So long time no post from me and all that. Yeah yeah yeah, I know.
The bathroom is still tantalizingly incomplete. I bought window and door casings from Second Use and cut them to size, but now they're sitting in my basement unsanded, unprimed, unpainted, and uninstalled. And of course I still haven't done anything about the tub/shower valve escutcheon, although I did fix the broken screw in the shower arm drop-ear, so it's solid again.
The main point of this update is the most recent bit of yard work Jen and I did last weekend. It's been unseasonally good weather the last week or so (it stopped today, naturally), so first Jen got out and raked up all the leaves, sticks, and dead morning glory from the side yard.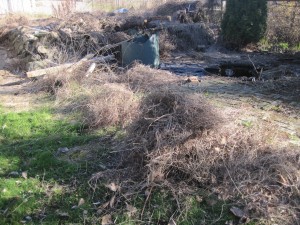 As it turns out, there's actually a brick patio underneath all of it, not just a bit.
Typically for this house and yard, whichever previous owner installed it installed it wrong — there's no base of gravel and compacted sand, no! They just laid down bricks over black plastic directly onto the dirt, so of course it's all wavy and uneven. Sigh.
But: since I'm pretty sure the bricks are pavers and not wall bricks, we'll be able to save them and use them for our own patio to be overlaid over the existing concrete patio directly behind the house. Someday. Yay!
As you can see by the photos, there's also a pond — we knew it was there but didn't realize it was about 30 inches deep. Apparently there was supposed to be an upper pond with a stream and a waterfall leading to the lower pond. I'm sure a shrubbery was involved somehow. In any case, it's going to be siphoned out and removed and eventually appear on a Craigslist advertisement.
So: last weekend we acquired a lawn mower from a friend's shed where it had been sitting idle for at least three years. A $50 trip to a local lawnmower repair guy later, I was able to mow the entire front lawn for the first time in five months. As you can see, the entry looks a lot nicer when it doesn't look like a jungle: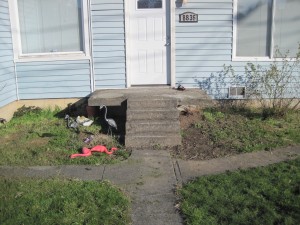 The mower doesn't have drive wheels like the mowers I used to use as a teenager, but at least our yard is almost entirely flat.
I would have continued mowing and done the back yard, but since there were huge piles of yard waste covering parts of it I figured I'd take care of those first. The largest pile under the trees was mostly leaves and sticks and not so much morning glory. I filled up the 40-gallon yard waste bin plus nine big Home Depot bags: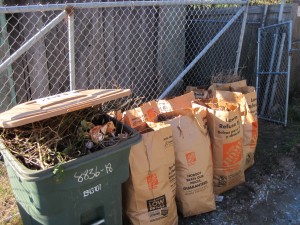 You can see more or less where the pile was — everything in the area from the leftmost tree to the fence to the concrete driveway was a foot and a half or more deep in crap: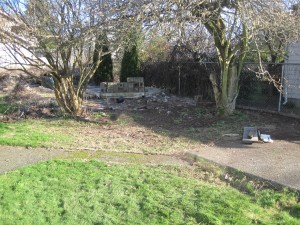 Meanwhile, Jen completed (or nearly so) work on the front garden beds, which are going to look very nice when they're planted with flowers in the spring: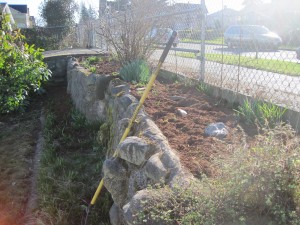 Sadly, the end of the great yard cleaning is still pretty far off. Not only do the piles of dead morning glory in the first picture remain, but in the raised area at the southeast corner is this: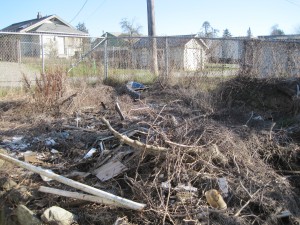 We're kinda scared to poke about in this treacherous pile of junk, construction debris, tree branches, weeds, and rocks to even determine how bad it is. And there's another similar pile on the other side of the garden shed. When the clerk at Home Depot saw me buying twenty yard waste bags, he commented, "Those are pretty big, you know." To which I could only reply, "Oh, believe me, I'll be back for more…"
Finally, since it was such a nice day and both Jen and I were working outside, we brought Thekla out to play, which led to lots of hysterical crying. Turns out she's terrified of grass.