Five weeks ago it looked like this:
Four weeks ago it looked like this:
The white stripe is where the boundary masking tape went. It'll be covered up by a self-stick flowers-and-garlands border we got from Amazon.
Two weeks ago it looked like this: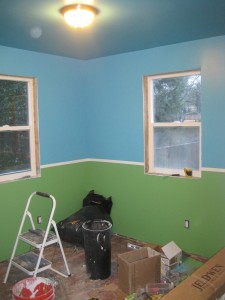 Look! Lights and plugs!
The upstairs storage area is lighted as well.
Next on the agenda
Apply border
Wall plates for the plugs
Install door jamb and bifold doors for the closet
Install prehung bedroom door
Install window jambs and sills
Install casings
Patch floor where old wall floor plates used to be
Clean old linoleum mastic off the floor
Move my daughter and all her stuff in
Lessons Learned
If you have a 10′ wall, don't try to cut down a single piece of 12′ drywall. There's no way to get a tight fit and maneuver it into place, and plus you'll crunch all the corners. Instead, just accept that you'll have butt joints to mud and feather with the tradeoff that you won't have big gaps at the edges to fill.